Library Access for Spring 2021
Hoover Library continues with limited access during the Spring 2021 term. For details on the library's services during this time, visit Access During COVID.
---
Loading...
The following databases are newly acquired or being evaluated for a future subscription.
Indigenous Peoples of North America is a primary source database with documents of the historical experiences, cultural traditions and innovations, and political status of Indigenous Peoples in the United States and Canada.
This database supports research on the impact of invasion and colonization on Indigenous Peoples in North America, and the intersection of Indigenous and European histories and systems of knowledge through the use of manuscripts, monographs, newspapers, photographs, motion pictures, images of artwork, and more.
Unger Contribution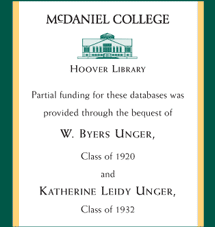 These databases are made possible through the generous contribution of W. Byers Unger and Katherine Leidy Unger.