---
Loading...
The following databases are newly acquired or being evaluated for a future subscription.
HeinOnline Academic is a multidisciplinary database, with coverage in more than 100 subject areas, including history, political science, criminal justice, religious studies, international relations, women's studies, pre-law.
The New Play Exchange ® (NPX) is a library of scripts by living writers. National New Play Network (NNPN) is an alliance of professional theaters that collaborate in develop, produce, and extend the life of new plays.
Unger Contribution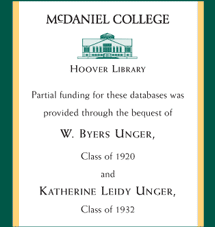 These databases are made possible through the generous contribution of W. Byers Unger and Katherine Leidy Unger.