Choice Reviews Online is a source that will support your collection development activities by allowing you to find book reviews with an easy-to-use search interface. This includes book reviews from 1988 to present, and also includes bibliographic essays, feature articles, editorials, advertisements, Editor's Picks, and Hot Topics.
If you choose to create a login and profile, you can take advantage of the following customized features, as well:
My Monthly Reviews: Receive a monthly emailed newsletter including reviews related to your subject area(s) of interest.
Saved Search Strategies: Save searches that you'd like to run again in the future.
My Lists: Create and save lists of reviews.
How to send order requests to the library:
As in the example below, you can copy the basic information from the header of the review (not the review text itself), and the link to the review will be active. Paste this information into an email to lgarber@mcdaniel.edu or your department's liaison and type in your department as the Subject (ex. Art Dept. Order). If there are any special ordering instructions, please make sure to note them with the book information.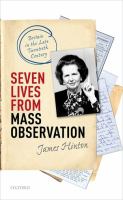 Hinton, James. Oxford, 2016
207p bibl index, 9780198787136 $40.00, 9780191829208

LC Call Number:

DA 591